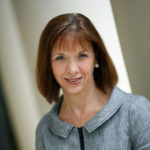 Anne C. Cooper, the oldest of eight children, was raised to be "mother's little helper" and grew up helping her mother care for her younger siblings before she was ten years old. So when she learned from her Akashic record reading that, in previous lives, she had always been mother to her mother and that this was the first life in which her mother was mother to her, her childhood made much more sense.
There were rewards for undertaking childcare responsibilities at a young age—a close relationship with her mother, a special gift at Christmas or on birthdays, little things that said thank you. Her childhood was idyllic, surrounded by a large extended family, a tight-knit neighborhood, and two parents crazy in love with each other. Even the food was great—her mother took cooking lessons from her Sicilian grandmother!
Fortunate to grow up at a time when it was financially possible to put yourself through school, Anne paid less than four hundred dollars a semester to attend William Paterson University and graduated with a degree in English Literature. She worked part-time in her father's dry cleaning business in Bergenfield, New Jersey. All her brothers and sisters worked there as they came of age and learned the same lessons she learned, how to converse with strangers, how to remember people's names after seeing them twice, what quality and value mean, and how to deliver it every time, with each piece of clothing left there, not merely to be cleaned, but restored.
Anne moved to Georgia as a young wife and freelance copywriter to raise three boys and help her industrial designer husband start a design business with global clients. Upon the failure of that business, due to the 1992 recession and her husband's alcoholism, Anne took a position as office manager for Miller/Barrett Construction and eventually earned her MBA. Two years later, she was appointed Director of MBA Admission for the University of Georgia's Terry College of Business.
Today, Anne lives and works in Athens, Georgia, a college town that hasn't lost its sense of community, despite its growth. She's still a helper, as her Akashic record reading told her, a behind-the- scenes person who boosts people up to climb walls. She loves her work at the University of Georgia and, with her first book, is looking up and out for what it will bring into her life—good people, love, travel, adventure, and opportunities to share.